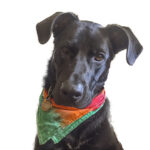 Woof, I'm the newest Photo Dog!
I met Matt a while ago at a place called a shelter. I was really stressed at the time, my family left me there with all these strange people and dogs. It was so confusing and I didn't understand what was going on and why I was there. I was alone at first because I had kennel cough and had to stay alone and away from all the other dogs for a month. The very first day I I was put with the other dogs for adoption Matt came along and took me home. I was really unsure when I first met him and a friend be brought along, then when we met again outside, I really liked him.
On our drive home he gave me a new name which I like a lot much better, now I don't even remember my old one. We spend a lot of time walking together while Matt teaches me how to be a better dog and he is showing me a lot about photography. I hope to be taking pictures soon.
I love to play Frisbee, chasing balls and sticks, and just running around playing with Matt. I'll be doing the majority of writing on this blog now. I have some big paws to fill. Jackson was one experienced and awesome dog!